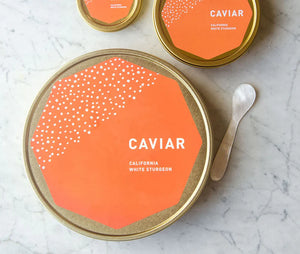 Love Child
30g ICO Sterling Farms White Sturgeon Caviar
Regular price
$110.00
$0.00
Unit price
per
Yes, you can pre-order ICO caviar too!!!  This 30g tin is perfect for 1-2 people.   
Orders must be placed by December 18 at 11:59PM EST
Pickup on December 20
Here's the lo-down from ICO:
Similar to our approach with oysters, we're here to make caviar as easy and enjoyable as possible.  Our promise is to be 100% transparent so you can trace these eggs from your table to the source.
Who makes it: Sterling Caviar Farms in Elverta, CA
Why we love it: Balanced and buttery, but less like a chardonnay and more like a mushroom or a fresh farm egg. Nutty, but not bitter.  Rich like anything that will give you gout.  Tender, but has a nice resistance to pressure.
Why it's unique: Sterling Farms White Sturgeon Caviar is from - you guessed it - the White Sturgeon (Acipenser Transmontanus), which is native to the rivers of Northern California.  Sterling Farms were the first in America to raise Sturgeon, so they have been the backbone of the domestic caviar scene.  We have a close relationship with the farm and here's what we saw when we visited: kind and earnest farmers, smart and established systems and an eye for the art of caviar making.