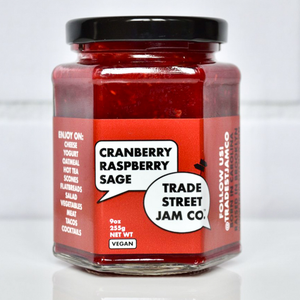 Trade Street Jam Co.
9 oz Cranberry Raspberry Sage Jam (seasonal)
Regular price
$16.00
$0.00
Unit price
per
PLEASE NOTE THAT THESE JARS COME INDIVIDUALLY BOXED, NOT IN CASE PACKS. All you need is our Cranberry Raspberry Sage Jam, mainly for a turkey sandwich, but also bomb in a cocktail or dessert. This is our limited edition gem that sells out every year! Cranberry, raspberry, sugar, fresh sage, orange zest, cinnamon, nutmeg. Vegan. No pectin. No preservatives. Contains 7g sugar per 1 tbsp. serving. Refrigerate after opening. Also, please note that our spoonable jams are very different from typical jams. We don't use pectin, thickeners, stabilizers or extra sugar to thicken our products (that's a good thing!).