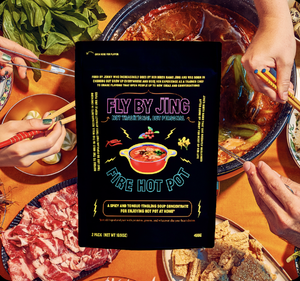 Fly By Jing
Fire Hot Pot Base
Regular price
$20.00
$0.00
Unit price
per
A spicy, tingly, complex base for building a fire hot pot at home. Spiced with a warming medley of ginger, star anise, and clove and rounded out with Sichuan Pepper extract to electrify your tastebuds. Made in Sichuan. Contains 2 packs, 480g total.
1 pack feeds 2-3 people
 Ingredients: Vegetable oil, Pixian Broad Bean Paste (Chili, Broad Bean, Wheat Flour, Salt), Ginger, Garlic, Onion, Chili, Pepper, Cinnamon, Fennel, Star Anise, Thai Ginger, Amomum, Cardamom, Allspice, Herbs, Bay Leaf, Clove, pepper extract. Contains wheat.