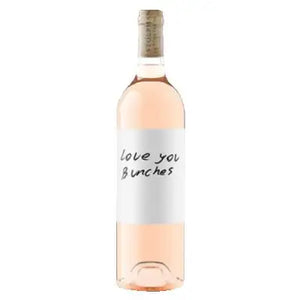 Vineyard Road
Love You Bunches Orange Wine
Regular price
$29.00
$0.00
Unit price
per
While the main Love You Bunches wine continues to be a 100% carbonic fermentation of Sangiovese, in 2019 we began making Love You Bunches rose, where most of the fruit is pressed immediately for an extremely light-colored rosé.  Some grapes rest 12-24 hours whole, to pick up some color and texture from the skins and pulp.
Vintage
A cold spring led to a moderate Summer without significant heat spikes through harvest.  We jumped on the warmer San Louis Obispo County picks early to catch the fruit fresh and lively.  This gave us the luxury of waiting on the cold Santa Barbara County sites to slowly accumulate sugar and riper flavors.  Without any heatwaves, the acid levels hung high, creating an epic rose vintage.
Sensory
Precise and popping with bright energy, 2021 Love You Bunches rose immediately wins us over in everything we want out of a scrumptious rose.  Strawberry married with cool, firm peach. Breezy lemon-lime and lifting mint combine effortlessly through the light and playful palate.  Smooth, with just a hint of refreshing tang as the curtain closes leaving us wanting more.